Barbara Rose Brooker
Biography
Barbara Rose Brooker has an MA in Creative Writing, a BA in painting. She has published fiction with Morrow, poetry in Lullwater Press, Crossing, and non-fiction with other presses. These books are available on Amazon. Her latest novel, The Viagra Diaries was bought by HBO for a series with Darren Star and Goldie Hawn. She has been teaching writing workshops since 91 at San Francisco State University/Olli, SFSU/ and at her bestseller seminars. Her new novel, Love, Sometimes, and other novels will be published and available in 2012. Currently, she writes Suddenly 70 for The Huffington Post, and for the SFJ Weekly.
She is a native San Franciscan. Also, she is the founder of the first boomer hottie age march in history, and has been on national media, and will be performing a solo show as well.
Books
Lazy Dogs Dance
by

Barbara Rose Brooker
Rachel Rosenbloom writes a book about her ex-husband who left her fifty years ago on her wedding night. When the novel is made into a movie, she falls in love with Max Taylor, a film producer. Struggling with her conflict about love, the industry, daughters, loving two men, and letting go of her obsession, Rachel is faced with new decision.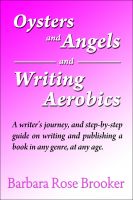 Oysters and Angels and Writing Aerobics
by

Barbara Rose Brooker
Personal anecdotes from the author's thirty-five years of experiences and insights as an author, her ups and downs with publishers, agents, and Hollywood. She takes the writer through her Writing Aerobics, step-by-step exercises to guide any writer from concept to publication.
Barbara Rose Brooker's tag cloud