Bark Eurich
Biography
I am a 52 year old former soldier and career artist who began studying canine psychology in the summer of 2006, after ligament damage to my right arm sustained in an accident had left me unable to work.
Although I had owned dogs all my adult life, the more I understood dogs, the more I realised how little I understood about myself.
I began writing Bark's Code after realising that I in fact haven't been spending the last years of my life rescuing dogs, it was of course, more a case of them having rescued me.
Books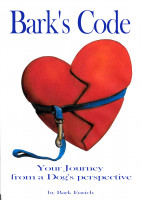 Bark's Code
by

Bark Eurich
Bark's Code is an insight into the mind of man's best friend, that I hope might inadvertently also give the reader an insight into why much of their own world looks as crazy as it does. Based on true accounts of a life spent rehabilitating the stressed the fearful and the misunderstood.
Bark Eurich's tag cloud