Grant Bartley
Biography
I'm Assistant Editor at Philosophy Now magazine, and presenter of The Philosophy Now Radio Show on Resonance FM. My book 'The Metarevolution' is available in various formats, and is now available in an improved Second Edition. I also recommend my book of philosophical short stories 'Love, Solitude and Destruction'. Go to philosophynow.org for podcasts and free downloads, etc.
Where to buy in print
Books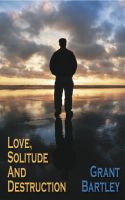 Love, Solitude And Destruction
by

Grant Bartley
A set of philosophical tales with many interconnecting threads, and a couple of loose ones too. From fatal meteoric disruption at a London bus stop, to the most important decision anyone's ever had to make, to Buddha preaching to the suffering in Hell, to the end of everything, this collection explores what can happen when you go for a walk. Features the controversial novella 'Buddha in Hell'.
Grant Bartley's tag cloud