B C
Biography
We are denizens of the Bat Cave, a group of writers originally hosted on eHarlequin. We've known each other for, well, years. One day, a couple of us had the brilliant idea to put out an anthology, and here we are: Kris Starr, Laura Hamby, Kathi Robb Harris, and Nell Dixon. There *are* more of us - fair warning!

We hope you enjoy our anthologies. What a privilege it is for all of us to be able to write together, and maintain world-wide friendships.
Books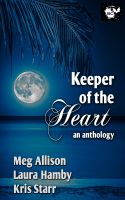 Keeper of the Heart an Anthology
by

B C
A mysterious invitation. A secret flight. And a beautiful, magical tropical paradise. A place where wishes come true, but not in a way that one might expect…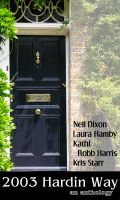 2003 Hardin Way
by

B C
Situated in Atlanta, Georgia, it's an address like no other. Whispered discreetly between co-workers, e-mailed between friends, found online by the most frightened searcher, it isn't just a building constructed of bricks and mortar. It represents hope. For women traumatized by abuse, harassed by others, or merely looking for an escape, this apartment building provides solace, sanctuary and safe.
B C's tag cloud