B. Barrow Hamby
Biography
Beverlie Barrow Hamby has "worn many hats" over the course of her life. In her younger years she worked in medical research as a molecular biologist, and occasionally as an adjunct college professor. Later, after she and her husband adopted their two children, she dedicated her life to the privilege of motherhood and to home-schooling her son and daughter over the next twenty years. Beverlie describes herself also as having all her life been a "searcher," not ever quite able to settle in to living life merely on the surface. Now she has returned to a "first love": writing.
Where to find B. Barrow Hamby online
Books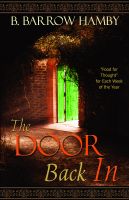 The Door Back In
by

B. Barrow Hamby
Each essay in this collection has a unique message, but an overarching theme suggests that if we perhaps slowed down the pace of our busy lives a little, we might discover messages in the commonplace. These unexpected, often winsome messages can awaken us to some things that may have slipped from our memory but that are truly essentials of life - values that we really don't want to let slip away.
B. Barrow Hamby's tag cloud