Sabine Williams
Biography
I can't remember a time when I wasn't writing. Short stories, whole novels, bad poetry and essays... English was my best subject in school and I only had to be given a subject to immediately fill the blank pages. I had a good imagination too. Having an ethnic background, with all the stories of my parents and other countries also fired my imagination. I was also in love with old movies, something my husband and I were delighted to find we had in common. We have an extensive movie collection and I can't buy enough books, having been a bookworm all my life. Ill health has held me back a bit, my husband is my carer - but the bonus of that, is more time to write and imagine different worlds and characters. Plus we have been able to write together. Our first novel, was a practice one...and we incorporated real experiences into it. We have been married over 30 years and know one another so well, that we find it quite easy to discuss our characters and plotlines. Years ago we wrote movie reviews for a newspaper in a small country town. We always planned on writing full length novels. I hope that readers enjoy this one, its a bit different to what you are used to. Also, if you are sci-fi fan, check out the free serial spoof STAR YAWNS. You may get a kick out of it.
Books
New Beginnings By Sabine Williams Published At Smashwords By Sabine Williams Copyright 2012 By Sabine Williams
by

Sabine Williams
A young girl must adjust to the idea of her widowed mother getting remarried. A family story which will touch your heart.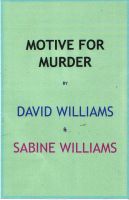 Motive for Murder. By David Williams & Sabine Williams. Smashwords Edition Copyright 2012
by

Sabine Williams
Grin Tyler is a celebrity famous for his groundbreaking work in radio and television. He was ambitious, making many enemies so when he is found murdered in his own home it makes headlines. His best friend Allen Campbell decides to take matters into his own hands and investigates the crime along with Adam his grandson and Detective Simon Carr.
Sabine Williams' tag cloud
Sabine Williams' favorite authors on Smashwords