Beatrice Forsyth
Biography
Beatrice is an ordinary, fun loving mother, grandmother and now a great-grandmother who has been through the rigours of the effects of world War Two which separated her parents and herself. Her beloved father was taken prisoner by the Japanese and lost at sea with one thousand men on the POW ship the Montevideo Maru. Beatrice, aged seven, and her mother were amongst the women and children of Rabaul PNG., who were evacuated to Australia and never received any news of their men folk till the War ended.
School in Stanthorpe and Brisbane, boarding school for three years, nursing training for four years, marriage for thirty nine years and the birthing of four beautiful children all helped to mould this author into the researcher of truth that she has become. Her children have all grown into responsible and loving human beings, and she has been blessed with six wonderful grandchildren and six 'star' great-grandchildren.
Beatrice loves to write and journal her own experiences, and has numerous stories yet to publish. Since being the recipient of these messages and writing this book, she knows without a doubt that she is blest and guided every day.
Books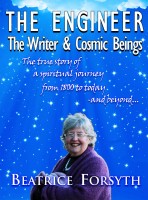 The Engineer, The Writer & Cosmic Beings
by

Beatrice Forsyth
The incredible true story of conversations between the author, Beatice Forsyth and the Arcturians. This extra-ordinary experience Beatrice was privileged to be part of has helped her understand that we are not alone, never have been and never will. And until we become consciously aware human beings of the glory around us, we will find we are in the same old patterns of behaviour.
Beatrice Forsyth's tag cloud