Bella Knight
Biography
Bella Knight writes what she loves--romance, Bad Boy Bikers to Hot Rockstars to sexy Sports Romances. She feels the love from her Las Vegas home from her rescue animals and her various love interests. She is constantly reading and writing, and she also leaves the animals with friends from time to time and hops on planes. She enjoys life to the fullest.
Where to find Bella Knight online
Videos
Ivy Velvet
She's gorgeous. She's sexy. She's a top~of~the~line lady if you want to party. She can hold her own against anyone. Even the toughest bikers do as she says. But she may have found something even more dangerous~love. Will Ivy survive her own wild heart? Click here to get your personal copy! Free on kindle unlimited! http://amzn.to/2tVDEYb
Books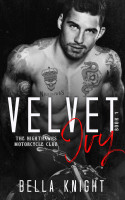 Velvet Ivy: A Motorcycle Bad Boy Romance (The Nighthawks MC Book 1)
by

Bella Knight
Maybe her crazy world will catch up with her, instead. It's hard to know for sure. So, what on earth will she dream for? And who else will come along for the ride? One thing's for sure, Velvet Ivy is going to rock the heart of Nevada. Ready, set... let's ride...
Bella Knight's tag cloud