Berman Hudson
Biography
The author, a PhD ecologist/agricultural scientist, served for 25 years as a soil scientist with USDA, retiring as Director of the US Soil Survey in 2003. He then worked as a consultant to private industry for several years. In addition to experience in America, the author has conducted soil, ecological and agricultural studies in Zimbabwe, Ghana, South Africa, Indonesia, Bulgaria, Denmark and the Virgin Islands. These life experiences led to a consuming interest in the fragile ecological balance between humans and their food. This, in turn, led to a fascination with human obesity, a striking and tragic example of what can happen when that balance is disrupted. This book is the result, and the story it tells is a transformative one, one that could even save your life.
Books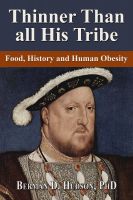 Thinner Than All His Tribe: Food, History and Human Obesity
By
Berman Hudson
Price:
$2.99 USD.
Words: 70,120. Language: English. Published: May 23, 2012. Category: Nonfiction
The obesity/diabetes epidemic seems unstoppable. But though seemingly complex, it is simply a case of human ecology gone awry. We have become a sedentary species living in vast urban feedlots, and like cattle, we eat and become obese. This book details the long co-evolution of humans and their food. It also explains why things went so bad so fast in the 20th century and how we can save ourselves.
Berman Hudson's tag cloud