Bert Barling
Biography
Bert Barling is a ham radio enthusiast, student of science, retired pumpkin farmer, and occasional writer. At one point in time, he was certified to give CPR and general first aid, but has since let the certification expire. It is unlikely that he will renew it. He also isn't actually a ham radio enthusiast, but still thinks they are "pretty darn neat."
Where to find Bert Barling online
Books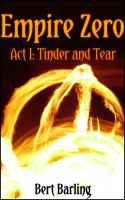 Empire Zero (Act I: Tinder and Tear)
by

Bert Barling
(5.00)
Magic is a near-forgotten memory, its appearance primarily relegated to embellished barroom tales and children's bedtime stories. The world's dragon population has been obliterated, long ago driven into extinction by the heroes of yesteryear. Yet, even without dragons, the world still remains one of danger, hardship, and oppression.
Bert Barling's tag cloud