Luis Antonio Perez
Biography
I am self development enthusiast. I live in the rural township of Isabela, Puerto Rico. My native language is Spanish and second language is English. I am father to two beautiful children. I have a bachelors degree in Educational Psychology from The University of The State of New York and a masters degree in Community Services, Sociology, from Norwich University, Vermont.

I love to write on several subjects. If possible, I try to put some humor in my writings. I have published articles in several medias and have been editor of two community magazines. I write a lot of articles. Most of my Facebook posts relate to some kind of subject. Usually do not comment, just to comment.

Interestingly, the book Cooperativa de Consumidores del Noroeste, a supermarket consumer cooperative, was 18 years in the making. That is, that I wrote the first draft in 2000 and decided to finish it in 2018.

I have been a volunteer in several nonprofit organizations in all kinds of human endeavors. At present, I am a parents and volunteer coordinator at a Head Start and Early Head Start Program.

Always looking for solutions to life circumstances.
Books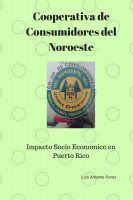 Cooperativa de Consumidores del Noroeste
by

Luis Antonio Perez
Historia de la Cooperativa de Consumidores del Noroeste de Puerto Rico, la Super Coop de Isabela. Como esta empresa cooperativa fue parte integrante de toda una region. Convirtiéndose en el patrimonio socio económico de todo un pueblo.
Luis Antonio Perez's tag cloud