Best of You Today
Biography
The Best of You Today is a community of women dedicated to personal growth and empowerment. Best of You Today is comprised of coaching programs, member forums, original web site content, and an active online social media community. Through these avenues, women from all walks are united to discover their true passions and purpose in life. Understanding the diverse needs of women, Best of You Today is committed to offering the very best of information, resources, and content that inspire positive life change. The time for change is now, and our goal is to support your journey to uncover the Best of You Today!
Where to find Best of You Today online
Books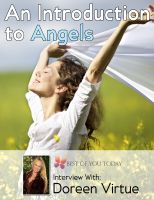 An Introduction to Angels
by

Best of You Today
(5.00 from 1 review)
Doreen Virtue pays attention to the everyday fears that surround every individual remarking that in order to have a fulfilled communication with an angel you must be willing to look your fear in the eye and say, "Bring it." In this book, Doreen talks about what it's like to communicate with her angels, and how you can do the same.
Best of You Today's tag cloud