Beth Solheim
Biography
Like the main character in her Sadie Witt mystery series, Beth Solheim was born with a healthy dose of imagination and a hankering to solve a puzzle. She learned her reverence for reading from her mother, who was never without a book in her hand. By day, Beth works in Human Resources. By night she morphs into a writer who frequents lake resorts and mortuaries and hosts a ghost or two in her humorous paranormal mysteries. Raised and still living in Northern Minnesota, she resides in lake country with her husband and a menagerie of wildlife critters. She and her husband are blessed with two grown children and two grandsons.
Where to find Beth Solheim online
Books
Outwitted
by

Beth Solheim
The Witt's End Resort in Northern Minnesota will never be the same when Sadie Witt assumes the role of funeral director's helper after the untimely murder of the previous assistant. After skeletal remains are discovered under Cabin 12, Sadie and her sister set out to solve a murder and reveal a secret that ties a prominent community member to a notorious crime operation.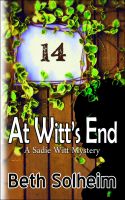 At Witt's End
by

Beth Solheim
Things are really bustling at the Witt's End resort in Northern Minnesota. Clients are vying for one of the few remaining rentals, except Cabin 14 thing is no--one gets out of Cabin 14 alive. Sadie isn't your typical sixty-four year old. She has things she wants to do and shouldn't be expected to solve a murder while trying to prevent an unscrupulous sheriff's deputy from shutting down her resort.
Beth Solheim's tag cloud