Beatriz Gonzalez-Flecha
Biography
Poet and photographer Beatriz Gonzalez-Flecha grew up in Buenos Aires, Argentina. She trained in different disciplines of science, meditation and the arts. This is the first complete collection of her poetry. She now lives in Massachusetts, USA.
Books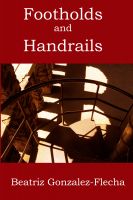 Footholds and Handrails
by

Beatriz Gonzalez-Flecha
(4.50 from 2 reviews)
Footholds and Handrails is the first collection of poetry by Beatriz Gonzalez-Flecha . This volume explores life experiences and personal interaction and communicates all that complexity using beautiful imagery and variety of form. From the ethereal and witty to the dark and deep, this guided tour through humanity will speak to those with a passion for clear seeing and freedom.
Beatriz Gonzalez-Flecha's tag cloud
Smashwords book reviews by Beatriz Gonzalez-Flecha
Love, Longing and Such Other Things on June 16, 2015



The poems in Love, Longing and Such Other Things are an invitation into the whimsical reverberations of everyday life. Reading them transports you into a different dimension, that of the senses. The author's choice of words, their sounds, and the richness of the images she creates combine to produce a new dimension, triggered in her by the mundane, but quite removed from it. Reading this book is like being lulled by an adept storyteller on a rainy spring day. You want to hear more and loose yourself in the music of her poems.