Howard Berenbon
Biography
Howard Berenbon is an electrical engineer with a computer hardware and software background. He earned his Bachelor of Science Electrical Engineering from Wayne State University in Detroit, Michigan. After working at Chrysler Corporation for 8 years he went on his own. In the 1980s he authored a series of books, published by Howard W. Sams & Co, Inc., on Basic language computer applications entitled "Mostly Basic: Applications for your Apple 2" which were then converted to IBM PC and other popular platforms. His Internet presence includes Cyber News & Reviews, a Website launched in 1995 specializing computer product and technology reviews. In 2016 he started a Youtube Channel, Cyber Times LLC, with tech, gaming and puppet videos. Also, from 1991 through 2012 he was a stay-at-home dad for his two children, Sarah and Rebecca, and they were influenced by his love of computers and the Internet.
Where to find Howard Berenbon online
Books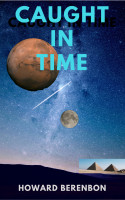 Caught in Time
by

Howard Berenbon
This is a book about history taught by some Michigan scientists in a unique way. College students view historical events through a time travel machine simulation using 3D holographic movies. But is it a simulation? Intrigue and espionage happen.
Howard Berenbon's tag cloud