JaMarcis D'Wayne
Biography
I'm JaMarcis Elliott-Barnes 34 years old, husband and father of four. I have been writing plays since I was 14. I am from Alton, Illinois born on May 8th. 1977. I enjoy writing amongst other hobbies such as singing and playing drums. I wrote a few plays already, Coffee Shop, N The Ghetto, Lovely Lady, Who's The Lover of Your Soul? and Disconnected. I'm currently working a future project TBA very soon. My #1 goal is to inspire believers and people to become more Christ-like. I hope you enjoy the project to come as well as "Mama's House." I'm looking forward to bringing more projects your way. The name of the company is 4Something New Inc. So be on the lookout for my projects and enjoy Mama's House.
Books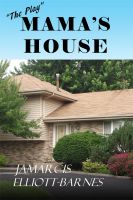 Mama's House "The Play"
by

JaMarcis D'Wayne
Three college students return to their hometown to find their old neighborhood has changed. They have chosen different career paths. Miranda is going through a hard time with her boyfriend and has to make a choice. Education, love and Christianity challenges each individual to their own destiny.
JaMarcis D'Wayne's tag cloud
Smashwords book reviews by JaMarcis D'Wayne
Seeking after the Kingdom on July 22, 2012


(no rating)
I really enjoyed the reading of your devotional messages. Please keep up the good work to build up the kingdom.