Biefnot Dannemark
Biography
Véronique Biefnot was born in 1961 in Colfontaine in western Belgium. After obtaining a degree in Philosophy and Literature at the Université Libre de Bruxelles and after further studies in Art and the Dramatic Arts, she embarked on a distinguished theatrical career that has seen her perform in the major theatres of Belgium, appearing more than forty times on stage in major roles in the works of such masters as Chekov, Molière, Giraudoux and Shakespeare.

Simultaneously pursuing a career as a television presenter and theatrical director, she has also undertaken several adaptations for the stage, as well as writing the screenplay for and directing a medium-length film, "Alme".

Always versatile, she has also enjoyed success as an artist and writer, and since 2011 she has published three novels, along with a novel for young readers and a number of short stories that appeared in the literary magazine "Marginales".

She is currently living with her husband and three children in the province of Walloon Brabant (south of Brussels).

Her website may be viewed at http://veroniquebiefnot.wordpress.com/.

Born in Belgium in 1955 in a village on the French border, Francis Dannemark earned a degree in Philosophy and Literature at the University of Louvain.

While pursuing a career in writing, he also served as, among other things, a teacher, translator, film critic, director of a cultural centre in Brussels and director of several international literary festivals.

He works as a free-lance literary consultant, besides continuing to serve as the editor of the series, "Escales des lettres", which he founded in 1998 and which is published by Le Castor Astral (Paris/Bordeaux).

He is the author of some thirty novels and collections of poetry and the winner of several literary awards, including the Prix Maurice-Carême, the Prix Charles-Plisnier, the Prix Alexandre-Vialatte and the Prix Bernheim.

He is currently living in Brussels with two of his three sons.

His website may be viewed at www.francisdannemark.be.

Francis Dannemark and Véronique Biefnot are co-authors of "Contact", short stories published at Smashwords by Fringilla Books. They are currently working together on a screenplay and a novel.
Books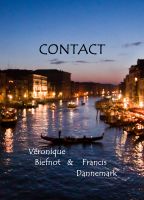 Contact
by

Biefnot Dannemark
Looking forward to a changing world, Véronique Biefnot and Francis Dannemark, two of Belgium's leading authors, explore the question of what will be the heart's deepest desire in days to come—and find that it will be the same desire the heart has always had: Contact.
Biefnot Dannemark's tag cloud