Johnny Alien
Biography
I was born and raised in the medieval village of Tideswell in The Peak District of Derbyshire, Northern England. Never cared much for regular school but went to Art School in Chesterfield, Derbyshire and in Liverpool. Moved to New York City after extensive travels throughout North America, then to Northampton Massachusetts, where I ran a large music venue/nightclub for five years. I have lived in Northampton with my wife Beverley for more than 25 years and have fronted my band 'Big Bad Bollocks' for over twenty years, writing songs and performing throughout the North Eastern US. My wife and I have two teenage sons - Macklin and Roscoe. I currently teach art at an inner city high school in Springfield Ma.
Smashwords Interview
Books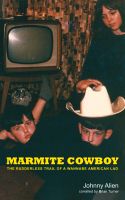 Marmite Cowboy
by

Johnny Alien
(5.00)
From a 1960s working class, Northern England village, dodging malevolent old 'Church Ladies' and pissed off Grebos while dreaming of partying on the beach with The Monkees. To New York City and beyond, through the excesses of the 70s and 80s. Join me, along the trail of a wannabe American lad.
Johnny Alien's tag cloud