Robert Arley
Biography
Wrote well-received fringe theatre comedies staged in London, Edinburgh, Birmingham and Cheltenham, England.
Wrote episodes of ITV's teen comedy series 'The Kids from 47A' and hundreds of comic definition scripts for BBC's 'Call my Bluff' celebrity panellists.
A prize-winning comic short story writer, Robert devised and co-scripted 'Minty', a teen comedy serial, shot in Australia for Scottish TV and screened worldwide.
Books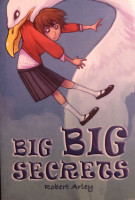 Big Big Secrets
by

Robert Arley
Science teacher becomes Barbie Doll size. Hilarious tale of two teens trying to reverse a crazy experiment. Can Annie and Jake get their furious little teacher back to normal and keep this weird event a secret?
Robert Arley's tag cloud