Bill LaBrie
Biography
Born into a family of travelling lounge musicians, my earliest memories were of the vast American West speeding past the windows of various Detroit sedans from the 1960s. I was homeschooled from 4th grade through high school and took my diploma through correspondence back before they called it "distance learning". I was writing short stories at the age of nine, mixing records and writing songs at fourteen, and working two jobs as well as managing a business at twenty after my dad suddenly died. I'm a graduate of Thomas More College (Philosophy '94), a certified UNIX admin, a 20-year veteran of Fortune-50 IT departments, a published writer, journalist, poet, and PR flack, a twice-married/twice-divorced sometimes-Catholic single dad, a philanthropist, a songwriter, a terror on two wheels, and most recently, a novelist.
Where to find Bill LaBrie online
Books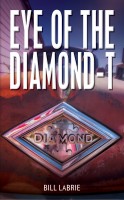 Eye of the Diamond-T
by

Bill LaBrie
After his truck crashes on an icy bridge along Route 66 one night in 1957 Arizona, driver Nick Pente awakens in a remote mountain valley in the care of a Native American shaman and his beautiful daughter. Initially blind, Nick must remember what came before the fateful night on the bridge (trauma dating to his service in WWII and his childhood) before returning to his world with his newfound love.
Bill LaBrie's tag cloud