Bill Clarkson
Biography
Bill was born in Provo, Utah at the Crane Maternity Hospital which has since been torn down and a Ford agency now stands. This is probably most appropriate because he has spent his whole life in direct commission sales. He started as a teenager as a door-to-door vacuum cleaner salesman and closed out his career as CEO of an investment real estate firm he founded in 1980. All five of his children are 'commission only' salespeople, as all self employed people truly wind up being.

Becoming an effective salesperson is learning to be a story teller. Each product has its own story to tell and the need to be able to teach aspiring salespeople the story required Bill to write many sales manuals and a myriad of training materials so it would be truthful to say that Bill has been a lifetime writer and story teller.

Bill has made thousands of in home sales, which coincidentally with the Shabaikai novel, included sewing machines. In creating the Shabaikai story, Bill called upon his decades of sales experience to create one of the lead characters and his fascinating business career doing business in another era long forgotten by most people.

Bill has been married to his third wife, Susan, for twenty seven years and she became to CEO of the family owned firm when Bill retired to become a full time author.
Books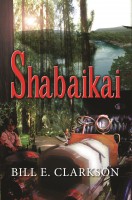 Shabaikai
by

Bill Clarkson
Price:
$9.99 USD.
Words: 179,570.
Language: English.
Published: July 26, 2014
. Categories:
Fiction
»
Inspirational
This story centers around two men who were born the same year; one in Italy and the other in Alameda, California. Their stories merge many years later in Guerneville, California the Gateway to the Bohemian Grove. Along the way there are mass murders, prostitution, bootlegging and epidemic that kills more solders than die in battle than during war time. This is historical novel contains fascinating
Bill Clarkson's tag cloud