Billy Kring
Biography
I grew up in a small Texas town and had a great Tom Sawyer-type childhood, but with more modern perks like movies, books (always lots of books!), the Rolling Stones, Johnny Cash, etc., and friends to go on adventures everywhere, from hunting the river bottoms to sneaking across the border into Mexico as goofball teenagers. Well, we had to because we were under the minimum Texas drinking age, right? As an adult I've worked as a Border Patrol Agent, a Consultant to foreign governments and Fortune 500 companies, and instructed foreign law enforcement on antiterrorism techniques and border enforcement. Oh, and I act and write.
Books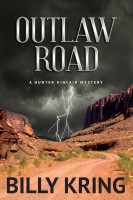 Outlaw Road
by

Billy Kring
Border Patrol Agent doesn't make friends easily, but when she arrests an undocumented 14 year-old Mexican orphan, things change, for she and the tiny Tarahumara girl bond strongly. When Hunter learns the girl is in the most dangerous place on the border, the criminal village called Outlaw Road, she doesn't hesitate and crosses into Mexico, to the place where the gun and knife are judge and jury.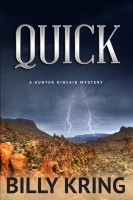 Quick
by

Billy Kring
A sadistic killer called Conan prowls the shadow world of undocumented immigrants, leaving mutilated bodies from Texas to Florida. Female Border Patrol Agent Hunter Kincaid teams with Florida detectives John Quick and Randall Ishtee to find him. But Conan is cunning, and soon the three friends realize they are no longer the hunters, but the prey.
Billy Kring's tag cloud