Stephen Ames Berry
Biography
Stephen Ames Berry is the author of four science fiction novels first published by Ace/Berkley and Tor/Macmillan, and of The Eldridge Conspiracy, a tale spun from his time at the Pentagon and the myth of the Navy's World War II ship invisibility project, the Philadelphia Experiment. He's now writing his sixth novel. A graduate of Boston University, Berry has a master's in information systems and was a systems analyst and data architect for the Navy Department and Harvard University. He's a veteran of the U.S. Army Security Agency, which sponsored his three-year stint in Tokyo. A slave to a pride of entitled cats, Berry lives in Florida, where he teaches at a special school for wayward youth.
Where to find Stephen Ames Berry online
Books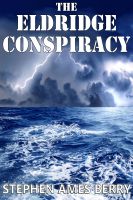 The Eldridge Conspiracy
(5.00)
On the run from their own, Angie and Jim, Navy and CIA, unwilling guardians of the long-lost Eldridge Roster. The USS Eldridge--object of WWII's ship invisibility experiments. Without its crew list a brilliant perversion of genetics and physics will fail. And the children of the Eldridge with their wild powers may survive. The Roster--key to mankind's ascent or its anguished twilight?
Stephen Ames Berry's tag cloud