F. Elizabeth Hauser
Biography
F. Elizabeth Hauser is a retired Registered Nurse.She grew up in the Northwest, but lived for many years in Arizona in the Gila Valley, the setting for two of her books. She is a former member of the Mid-Valley Chapter of Willamette Writers and a small private writing group, River Road Riters. She is currently preparing to publish five more novels, one previously mentioned, the sequel to Fish in a Bird's Nest, the second and third volumes in The Homesteaders Series, and two stand-alone novels. She and her husband now live in Utah.She enjoys her family first and foremost, with five grown children and eleven grandchildren.Together, she and her husband have eight children and fourteen grandchildren. She is an avid camper, enjoys hiking and backpacking, and loves to delve into family history research.And did we mention writing??
Smashwords Interview
Books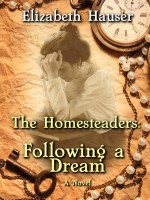 The Homesteaders: Following a Dream
by

F. Elizabeth Hauser
Price:
$1.99 USD.
Words: 41,820. Language: English. Published: April 25, 2014. Categories:
Fiction
»
Romance
»
Historical
The first in a series of novels, The Homesteaders: Following a Dream, introduces the reader to a young girl being raised by her widowed father in late nineteenth century America. Her dream is to become a doctor, like her father. Clara finds she has only two who believe in her, and then her life is changed when she meets another in the form of a handsome self-educated farm boy.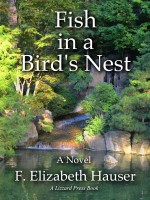 Fish in a Bird's Nest
by

F. Elizabeth Hauser
A gripping and authentic story of friendship that blossoms into love, amid cultural, religious, and racial diversity that were usually insurmountable barriers in the early part of the 20th century in America. Choices and their harsh consequences bring two families through pain, sorrow, and unification when children refuse to be captives of social bigotry and cultural misunderstanding.
F. Elizabeth Hauser's tag cloud