Warren Thomas
Biography
Warren Thomas is a veteran screenwriter, along with his former writing partner, of such blockbuster films as Swordfish, X Men Origins: Wolverine, Hitman, and A Good Day to Die Hard. However, he's grown weary of the soul-crushing vagaries of the Hollywood machine. Rather than pimp his newest creation to the highest tinsel-town bidder—only to watch his characters homogenized and destroyed "note by note" by Harvard trained, literary ninjas in Brooks Brothers suits, Warren and his partners at Black Gold Productions have decided to try a new, insanely risky gamble: taking his stories directly to the readers (gasp!). Positive I.D. is the first attempt at creating a television series designed to be read, rather than watched. Each "Bookisode" will be both a self-contained story and a small piece of a much larger narrative. So he hopes readers enjoy it. Because he doesn't want network executives to turn Positive I.D. into a reality show. Also, he lives in sleepy Redondo Beach, California with his (mostly) loving family and (always) hateful dog, where he enjoys sunset strolls on the beach with his beautiful wife, is learning to love IPAs and is keeping his hair long while he still can.
Where to find Warren Thomas online
Books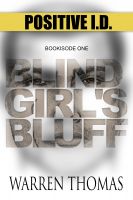 Positive I.D.: Blind Girl's Bluff (Bookisode One)
by

Warren Thomas
New crime series by the co-creator of blockbuster films like Swordfish and Hitman, Positive I.D. is an entertainment first: a TV series designed to be read, not watched. Blind Girl's Bluff, the premier "bookisode" (think episode), introduces forensic sketch artist and free spirit, Lyra Cole, tracking down a sadistic rapist, fearless because his victim is blind. Inspired by real police cases.
Warren Thomas' tag cloud