Blanche Belljar
Biography
For years, my family and friends have urged me to write books about my experiences with having bipolar disorder. "Maybe you can help other people who are going through the same thing," they suggested. I was first diagnosed with this disorder in 1985, so it is like "an old friend" to me. I had put off writing about it for many reasons: it was too depressing; too weird; too embarrassing; and too strangely humorous. I finally started writing about it after my brother died. One of the most helpful coping mechanisms my brother had ever taught me was to try to see the humor in some of the distressing things that have happened to us in our family. Ultimately, my books are about hope: you will get better after you are first diagnosed with bipolar disorder. My books are also about accepting your illness and how to cope with it; not just for yourself, but also if you have a loved one who is having a bad manic episode and you are trying to help them without going crazy yourself.
Where to buy in print
Books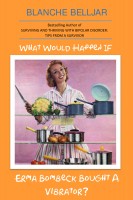 What Would Happen If Erma Bombeck Bought A Vibrator?
by

Blanche Belljar
(5.00)
This is one of the funniest stories about buying and using a vibrator for the first time that you will ever read. It is written in the style of Erma Bombeck, who liked to write about trying out new items of interest to homemakers in the 1970s. As far as I know, she wasn't bipolar—but I am—and I just bought and used a vibrator for the first time. Delightful & poignantly honest. For readers 18+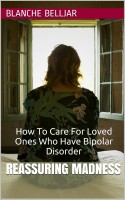 Reassuring Madness: How To Care for Loved Ones Who Have Bipolar Disorder
by

Blanche Belljar
I think there must be a special place in heaven for those who care for loved ones who have bipolar disorder. I know what a roller coaster ride it can be since I've been there: four people in my immediate family, including myself, have it. This self-book shares my tips, survival skills, and coping mechanisms I've learned, sometimes the hard way, over the years.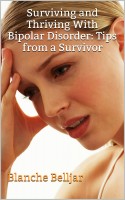 Surviving and Thriving with Bipolar Disorder: Tips from a Survivor
by

Blanche Belljar
This self-help book describes how I've managed to survive and thrive with bipolar disorder for over 30 years. It offers tips on how to pick a good psychiatrist, how to handle depression, anxiety and insomnia, and how to help a loved one who's going through a manic episode. It also explores the good side of being bipolar--and yes, there are some good sides. It has Five and Four Star Reviews.
Blanche Belljar's tag cloud