Jack Hawn
Biography
Jack Hawn never studied journalism and never aspired to be a writer. After almost four years assigned to the army's public information offices, he faced civilian life with a wife, infant daughter, wild ambition, bursting optimism, unshakeable confidence--and no job. He found work as a copyboy at a Hollywood newspaper, was paid $5 to review plays and nightclub acts, and a year later filled a sports desk vacancy. He eventually earned extra income as a television dramatist and wrote TV and radio scripts for sportscasters. In 1970 he was hired at the L.A. Times, where he worked in sports and entertainment. During his 41-year career, he covered Muhammad Ali, 1984 Olympics boxing, Sugar Ray Robinson, Frank Sinatra, Sammy Davis, Jr., the Andrews Sisters, Dinah Shore, and other celebrities until his retirement in 1991.
Books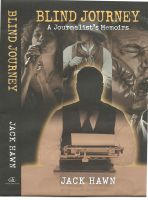 BLIND JOURNEY A Journalists's Memoirs
by

Jack Hawn
Jack Hawn, retired television dramatist and sports journalist, reveals his exciting life as a journalist in the 1950s to 1991, and his personal life. He covered Muhammad Ali title fights, boxing at the 1984 Olympics, Frank Sinatra, Sammy Davis, Jr., Dinah Shore, and other celebrities. You'll enjoy reading this fascinating memoir.
Jack Hawn's tag cloud