Dr Robert Garsia
Biography
Born in Egypt but luckily migrated to Australia when he was only 11, Dr. Robert Garsia attended Melbourne University and obtained a Bachelors Degree in Medicine. He completed his residency in Geelong. Afterwards, the family moved to Vunapope, near Rabual in New Guinea to work in a mission hospital. Upon returning to Australia, the family settled in Brisbane. Undertaking further training in Child Guidance and Psychiatry, he eventually settled into private practice.

Dr Garsia retired in 2011 and began writing. This is his first book and he is already writing his second.

Dr Garsia has been happily married to Evelyn for 45 years. He has five children, numerous grandchildren and is embracing his retirement with gusto.
Books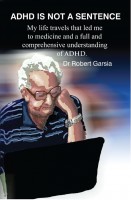 ADHD Is Not A Sentence My life travels that led me to medicine and a full and comprehensive understanding of ADHD
by

Dr Robert Garsia
In my career as a medical doctor, I met many parents who did not know what to believe about ADHD because of so much misinformation in the media. I hope this book clarifies much of the mystery and the stigma surrounding these conditions.
Dr Robert Garsia's tag cloud