Robert Herrmann-Keeling
Biography
I was born and raised in North Dakota, By seventh grade I owned/operated a printing company (specialty items for US post offices) which I sold when I graduated college and went East for graduate school (five years two graduate degrees). Ordained minister in 1962. Served churches in Massachusetts, New Hampshire, and Connecticut, also missionary with native Americans in North Dakota. Returned to graduate school for five more years (two more degrees) in counseling. Conducted several private practices. Worked with abusing parents (Parents Anonymous), then directed state-wide child abuse emergency system for the state of CT. Went over to state emergency services, then assisted three CPS directors, then worked with foster care and specialized adoptions. Doctoral work introduced me to Adlerian psychology, which I used in counseling individuals, couples, groups, parents, families, and in leading classes and clergy training. This led me to establish the LifeCourse Institute of Adlerian Psychology, which I have directed for about 35 years. I am 76, live in Connecticut with Carolyn. We are both heavily involved in barbershop music. I have four children and seven grandchildren; she has three sons and two grandchildren. Darn, where's the spell-checker on this site!
Where to find Robert Herrmann-Keeling online
Books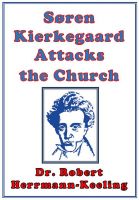 Soren Kierkegaard Attacks the Church
by

Robert Herrmann-Keeling
A philosopher-theologian's scholarly but highly readable book on Soren Kierkegaard, Danish "father of modern existentialism." Chapters include: his life, his literary methods, his themes, his attack on the 1840s Danish church for "making a fool of God," an objective life of Jesus, a summary of the first-generation church, and Kierkegaard's message to the church in our time. Bibliography.
Robert Herrmann-Keeling's tag cloud