Bob Triggs
Biography
Bob Triggs was born in the Falkland Islands in 1957 and has lived in Los Angeles since 1994. His first novel, Tumble, was published in 2009 in print. Encouraged by reviews, feedback and letters that readers found the book impossible to put down, Tuble II is a direct continuation. Also look out for two future publications already in the works. 'Shadow Of Vengeance', a murder/mystery suspense with an unexpected twist, and 'Eccleston Manor Ranch', a supernatural thriller.
Books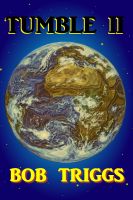 Tumble II
By
Bob Triggs
Price:
$4.99 USD.
Words: 316,740. Language: English. Published: February 10, 2013. Category: Fiction
(5.00 from 1 review)
A series of chain reaction natural disasters has culminated in an abnormal seismic catastrophe, dubbed as the Andaman Event by scientists, and it's causing the earth to tumble on its axis. Now mankind struggles for survival as the planet reshapes itself ecologically and geologically with disastrous consequences, threatening the existence of every living thing on its surface.
Bob Triggs's tag cloud