Booker T. Smith, Jr.
Biography
BOOKER T. SMITH, JR. graduated from Lillie B. Williamson High School and joined the U.S. Air Force. Due to his disability, he received a medical discharge. He earned a Bachelor of Arts in sociology from the University of South Alabama, a Master of Science in agency counseling from Alabama State University and has pursued further studies in Elementary Education. For thirty years, he was employed as a Juvenile Probation Officer and Detention Counselor with the state of Alabama. He was instrumental in writing, developing and coordinating a highly successful program that reduced the recidivism rate of gun offenses for adjudicated delinquents that were originally referred to the program. He also wrote, developed and coordinated the Behavior Aide Program which was designed to maximize the child's potential, while minimizing behavioral conflicts. Those services were contracted with the Alabama Department of Human Resources. He was employed by the Mobile Mental Health Center as an Outpatient Therapist in their shelter for runaways and acquired over 2,000 hours of therapeutic contact. For two years, he was employed as an Addiction Therapist in a private clinic and acquired over 2,000 hours of therapeutic contact there as well.
Where to buy in print
Books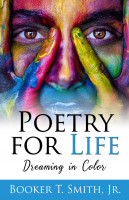 Poetry for Life
by

Booker T. Smith, Jr.
This book, complete with colorful, captivating, high definition images, reflects the author's unique, creative ability to express social issues in poetic form. Themes include conflict in school, addiction, mental health, choices, consequences, resiliency and the power of unconditional love. The poems are inspiring, motivational, and divine.
Booker T. Smith, Jr.'s tag cloud