Books Bye Blanche
Biography
Jennifer Blanche Williams was born and raised in Northern Minnesota. She graduated with a Masters Degree in Physical Therapy from the College of St. Scholastica in Duluth, MN and has practiced in a number of States across the country. She owns and operates Willow Tree Wellness & Therapy, Inc, - a private physical therapy clinic in Greenville, SC where she now calls home. Jennifer celebrates life with her husband Brandon, her son, step-daughter, extended family, friends, and community in South Carolina. Along with practicing physical therapy, her passions include writing and storytelling. Jennifer is excited to start a new chapter in life which encompasses celebrating life's real experiences, exploring the meaning of those experiences - both personally and professionally - always with God at the center of it all. Look for more Books Bye Blanche to come, as well as publications by Jennifer Williams related to healing and health. Jennifer is an expert in her field and has built a successful career in helping people truly heal from pain, while educating and motivating them to live well. Regardless of what Jennifer is writing, you can always count on honesty - sprinkled with a dash of humor!
Where to find Books Bye Blanche online
Books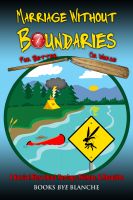 Marriage Without Boundaries: For Better or Worse - A Survival Story about Marriage, Mishaps, & Mosquito's
by

Books Bye Blanche
(5.00)
A laugh out loud true story of a young married couple's outdoor weekend adventure...gone wrong! As in marriage, they discovered that nature has a way of its own and you had better have your compass when navigating your way in the wilderness, as well as married life beyond the alter!
Books Bye Blanche's tag cloud