Book Summary
Biography
Book Summary was born to help amazing people just like you, people who are passionate about learning and growing but have little spare time to read.

Luckily for you, summarizing non-fiction books is what we do best. We know that your time is precious, so we provide you with the most important ideas and takeaways from a variety of best-sellers and popular non-fiction books that will take you no time at all to read.

We have done all the hard work for you, all you have to do is benefit from it! To your success!
Books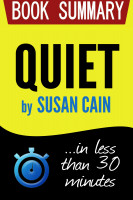 Summary of Quiet: The Power of Introverts in a World That Can't Stop Talking
by

Book Summary
This book is powerful in its own way, as it gives a voice to the introverts of this world. That is very significant because as many as one-third to half the people in the world are introverts. Introvert refers to the people who prefer listening to speaking, reading to partying; who invent and create but are not likely to present their ideas; who are more productive working on their own ...
Book Summary's tag cloud