Robert Padgug
Biography
Bob Padgug is an Electrical Engineer residing with his wife Judy in Buffalo, NY. He is the father of two boys, Josh and Bram, and now has two wonderful grandsons, Micah and Isaac. His career encompassed several decades designing advanced radar systems and signal processing techniques. Bob also taught college engineering courses at the University of Buffalo contributing to several ideas included in his book Continuum.
Where to find Robert Padgug online
Books
(K)night of Babel
by

Robert Padgug
A short story set in the not-too-distant future develops into an intricate mystery. Violence has driven society into the ultimate gated communities where everything can be controlled. Technology has miniaturized electronics sufficiently to allow surgical implantation of a multipurpose communication device so people are always "online."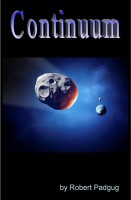 Continuum
by

Robert Padgug
Where do you hide? You have just created a vast universe including the seeds for intelligent beings destined to bloom in millennia to come. These beings will develop the means to probe distant galaxies or to peer far back in time. You carefully craft physical rules to lord over your creation. After careful review, you locate yourself where they can never find you...at the end of time.
Robert Padgug's tag cloud