Brady Black
Biography
Brady Black has been married to his High School sweetheart for fifteen years. Together they chase and enjoy six untamable kids. Their four boys and two girls enjoy long rides that entail adventurous stories told by their father. The longer the ride the better. These car ride stories are what gave him the desire to write his first book, Grant Anders And the Gift of Nothing. As a Pharmacist by day, and a Husband, Father, and Author by night, Brady works hard to provide for his family but enjoys the time he spends with them more.
Books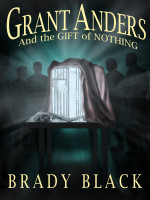 Grant Anders and the Gift of Nothing
by

Brady Black
Just when Grant Anders thinks everything is turning for the better, the unimaginable happens. He gets attacked by an invisible creature only he can see; which drags him into another world. In the war torn world of Linessa, Grant will evade capture, prepare for war, experience a runnel fight, chase a spy, try to develop talents only people from Earth possess, and find his own history revealed.
Brady Black's tag cloud