B.R. Baugh
Biography
Brandon Baugh currently resides in Colorado's Western Slope. He has two children and a lovely wife. He works 10 hour days at a company called Gordon Composites and is working on completing his Bachelors Degree in Creative Writing for Entertainment at Full Sail University. He works mostly in the science fiction and fantasy genres, but he does dabble in others for his amusement. Brandon strives to implant himself among the greats and hopes to, one day, become a famous author.
One of his favorite authors is R.A. Salvatore and continues to read the famous Legend of Drizzt series. He is also a big fan of Cracked.com and, more specifically, the writer of John Dies at the End who is also the senior editor of Cracked; David Wong.
Books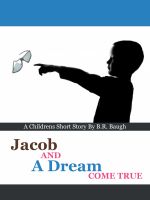 Jacob and a Dream Come True
by

B.R. Baugh
A 12 year old boy named Jacob, who has a peculiar supernatural ability, must endure a sticky situation when he is transferred to a new school, but when he encounters a particular student, he finds out that it is a lot harder to make friends and must find a way to cope with the mess he is in, or face a life time of solitude among his classmates.
B.R. Baugh's tag cloud