Breno Melo
Biography
Breno Melo nasceu em 1980, na cidade do Rio de Janeiro. Foi indicado para Poeta do Ano pela Sociedade Internacional de Poetas mais de uma vez, em 2002, 2003 e 2004. Participou da antologia "The Best Poems and Poets of 2003", com o poema "Hazel Eyes", e da antologia "The Best Poems and Poets of 2004", com a composição "That Girl". Também foi selecionado para "The International Who's Who in Poetry", incrível obra mundial que conta com participantes de vinte e cinco nações ao redor do globo e reúne, segundo a Sociedade, os poetas mais interessantes que ela encontrou ao longo dos catorze anos anteriores.
Books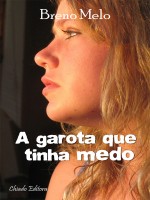 A Garota que Tinha Medo
by

Breno Melo
Marina é uma jovem que faz tratamento para a síndrome do pânico. Às voltas com o ingresso na universidade, um novo romance e novas experiências, Marina tem seu primeiro ataque de pânico. Sua vida vira de cabeça para baixo no momento mais inapropriado possível e então psiquiatras e psicólogos entram em cena.
Breno Melo's tag cloud