Brett Arquette
Biography
Dubbed,"the father of the drone thriller," Brett Duncan Arquette was born in 1960 and anointed with his mother's pen name "Duncan", given to him by award winning author Lois Duncan. During her career, his mother Lois has written over 32 best selling young adult books, some of which have been made into movies, including the movie "I Know What You Did Last Summer" and "Hotel for Dogs". Brett was raised in New Mexico and moved to Florida on his 30th birthday. Arquette spent most his career working as the Chief Technology Officer for one of the largest Circuit Court Systems in Florida. In 2002, Computerworld Magazine selected Arquette as one of the "Premier 100 IT Leaders" in the world, describing him as a "visionary" in reference to the cutting-edge technology. His books are peppered with technology acquired from his vast experience in advanced computers and audio/video systems. Writing on the weekends, Arquette's first book, "Deadly Perversions", was published in 2002. His additional titles are "Seeing Red", "Tweaked", "The Pandemic Diary" and "Soundman for a B-Band". His new Hail series has struck a cord with readers, putting him on the map as an up and coming author. His Hail series consists of "Hail Storm" (Hail #1), "Hail Warning" (Hail #2), Hail Strike (Hail #3), which will be followed by "Hail Damage (Hail #4)" due in 2018. Mr. Arquette's primary aspirations are to retire from the 9 to 5 grind and become a best-selling author, following in his famous mother's footsteps. Mr. Arquette currently resides in the Sunshine State with his wife and three children.
Books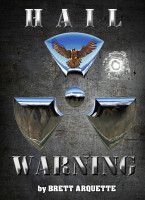 Hail Warning (Hail 2)
by

Brett Arquette
(5.00 from 2 reviews)
This is the second book in the Hail series, which starts right where Operation Hail Storm left off. Welcome to another techno-thriller filled with more espionage, twists and turns, drones, weapons, and terrorism than you can shoot a railgun at.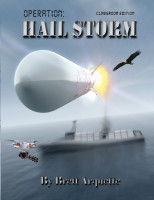 Operation Hail Storm (Hail 1)
by

Brett Arquette
(5.00 from 1 review)
Marshall Hail's drones possess the capability of getting to any terrorist, anywhere, at any time, unleashing an operation so disturbing that the CIA has named it Operation Hail Storm.
Brett Arquette's tag cloud