Brian Senewiratne
Brian Senewiratne is a Sinhalese from the majority community in Sri Lanka, one of the very few members of his ethnic group to campaign for the cause of the minority Tamils to live with equality, dignity, justice and safety in the country of their birth.

His human rights activities started in 1948, when as a 16 year old schoolboy he organised a protest in school in Sri Lanka, when a million Plantation Tamils of Indian origin (one seventh of the population of the country at the time) were decitizenised and disenfranchised by the first government of newly independent Ceylon (as it then was). Two weeks later he was invited to address a large public protest of more than 2,000 people in Colombo.

In 1956, he started a long campaign when the Indigenous Tamils were discriminated against by the Sinhalese-dominated government in the use of their language, entry into universities and employment. He has continued his protests over the years, and has done so to this day.

He left Sri Lanka in 1976 when it became unsafe for him to remain there because of his outspoken views. He accepted a University appointment in Queensland and emigrated to Australia. He is a specialist Physician in Australia.

Over the years, he has addressed many meetings across the world, in the United States, Canada, London, New Zealand, South Africa and Australia, the Parliamentary Complex in the House of Commons, London, the EU Parliament, the Canadian, Indian and Australian Parliament and numerous public meetings in the United States, Canada, London, Geneva, New Zealand and Australia.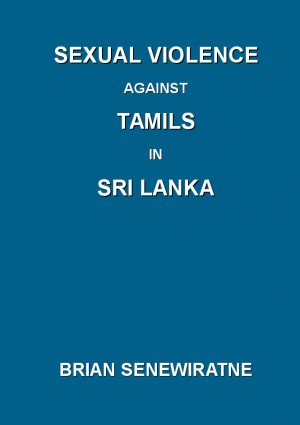 Sexual Violence Against Tamils in Sri Lanka
by

Brian Senewiratne
Sexual abuse of the Tamil minority in by the armed forces and officials in Sri Lanka