Brian Twinney
Biography
Brian Twinney was born Cardiff in 1936 into a badly dysfunctional family. Growing up extremely quickly in wartime Wales he learned how to take care of himself and his siblings while still a child. He has lived and worked in Wales, England, Ireland, Germany and Thailand. He has written an autobiography called "An Extraordinary Life".
Books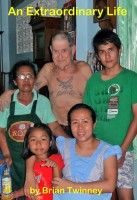 An Extraordinary Life
by

Brian Twinney
A betting man visiting Cardiff in Wales and meeting a baby Brian Twinney in 1936 would have given very long odds on him making it into his teens, let alone being 78 years old and living with his family in the north of Thailand. For this is a survival story, just as much as tales of shipwrecks or walks across Antarctica.
Brian Twinney's tag cloud