Obinna Udenwe
Biography
Obinna Udenwe is one of the African writers fearless enough to delve into controversial issues. He is the author of the award winning Satans & Shaitans - a conspiracy crime fiction set against the backdrop of Nigeria's ongoing terrorist tension.
With Holy Sex he brought to bare the hypocrisy in the church and turned the 'sacred' pastor figure into an erotic object.
His short stories on sexuality and eroticism has generated some discourse, and appeared on Brittle Paper, Expound Magazine, the Kalahari Review, Fiction 365, Munyori Literary Journal, The Short Story is Dead Vol 1 &2 and African Roar.
Obinna is the winner of the ANA Prize for Prose Fiction 2015, the Nigerian Writers Award 2016, the National Top 12 Award 2009 and the African International Achivers Award 2012.
Books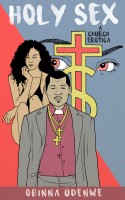 Holy Sex: A Church Erotica
by

Obinna Udenwe
Pastor Samuel tells her not to feel bad about their explosive nights in her small apartment. Sex with her is a holy act. It brings them together and lets them share in God's sweetest gift. Besides, his semen a.k.a. Holy Milk has spiritual properties and can bring her success in life. Blessing craves their lovemaking like a drug and is desperate to make it last forever.
Obinna Udenwe's tag cloud