Philip Lister
Biography
For the past twelve years I have lived my dream working in the amazing Yorkshire village of Haworth, former home of the Bronte sisters. I have worked here as a guide with groups from all over the world. One of my most popular guided walks was a 'Lantern light Graveyard Tour' around the village's 700 year old graveyard.

Recently I started to live a new dream. I retired from working with most of my groups to concentrate on my writing. My partner Jenny, and I now divide our time between our home in England (in the summertime) and the beautiful island of Madeira (in the wintertime).

Since I retired my keyboards been smoking!. At last I have the time to write, to create, to dream some new dreams, with Jenny by my side.

I plan to publish on Kindle later this year the first of a three part travel story about a man by the name of Elkanah Merrell. I suppose that it would be true to say that I've known him for twelve years now. The thing is he left the village around 153 years ago....
Books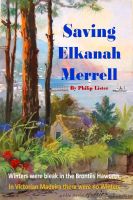 Saving Elkanah Merrell
by

Philip Lister
Winters were bleak in Brontes Haworth, In Victorian Madeira there were no Winters. "Last night, I dreamt that I could smell the Jaquranada again,I walked through their purple petals, sprinkled like soft frosted snow on moonlit pavements, with the warm breeze from the ocean upon my face" After breakfast, the family had all gone and the house was quiet again, but the images remained.
Philip Lister's tag cloud