Brooke Keefer
Biography
Brooke Keefer is the proud mother of three sons, a stepdaughter, stepson, and has two grandchildren. Brooke has a Bachelor of Arts degree in Mathematics from the State University of New York at Albany. For over 15-years, she worked as a not-for-profit director, lobbyist, advocate, and wrote, managed and reviewed grants in the field of children's mental health and juvenile justice. Brooke has several disabling conditions including sphincter of Oddi dysfunction, chronic pancreatitis, and fluoroquinolone toxicity syndrome (caused by a long-term adverse reaction to the antibiotic Levaquin). She now dedicates her work to bringing awareness to these diseases, writing health articles, advocating for patient rights, and recently started a digestive health blog called Have a Healthy Gut at www.haveahealthygut.com. Brooke is the founder of the Sphincter of Oddi Dysfunction Awareness and Education Network, a 501c3 not for profit organization. She manages its website, www.sodae.org, and Facebook page and support group.
Where to find Brooke Keefer online
Books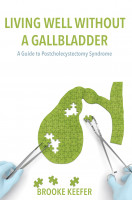 Living Well Without a Gallbladder
by

Brooke Keefer
This book is for anyone experiencing problems after gallbladder removal (cholecystectomy). You will learn valuable information about this condition, including natural treatments, medications, recommended diet, potentially helpful procedures, how to obtain a diagnosis and best ways to cope with your symptoms.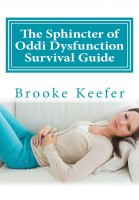 The Sphincter of Oddi Dysfunction Survival Guide
by

Brooke Keefer
Groundbreaking resource about sphincter of Oddi dysfunction, including information about the science behind sphincter of Oddi dysfunction, finding a doctor, diagnosis, treatments, diet, dealing with emergency rooms and hospitals, coping tools, if it is not sphincter of Oddi dysfunction, what it could be, and the truth about sphincter of Oddi dysfunction your doctor won't tell you.
Brooke Keefer's tag cloud