Tim JANES
Biography
Son of a English farmer. Experienced war in England during 1940's. Migrated to Australia in 1949. Apprenticed as engineer then moved to administrationand where he was co-opted into IT. Became a Christian at a Billy Graham meeting and later ministered as a pastor for twenty one years. Retired in 2001 and stood as a senate candidate for the ACT in 2001 and 2004. Married in 1960 with three children. As at 2012, 13 grandchildren and 4 great grand children.
Where to find Tim JANES online
Books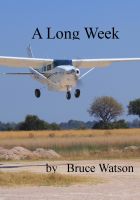 A Long Week
By
Tim JANES
Price:
$3.95 USD.
Words: 18,980. Language: English. Published: May 20, 2012. Category: Fiction
A romantic action adventure in the wilds of the Western Australian outback.
Tim JANES's tag cloud