Bryan K. Prosek
Biography
Bryan has lived his entire life in Ohio, and currently resides in Columbus where he is a practicing business attorney with the law firm of Steptoe & Johnson PLLC. Bryan has authored and co-authored numerous legal articles, publications, and books throughout his legal career. His work has been published in trade journals, legal magazines, and eBooks. He has always enjoyed watching and reading science fiction, and a few years ago, he started writing his first science fiction novel, Earth United.

Bryan is a graduate of The Ohio State University where he obtained his bachelor's degree in business administration. He went on to obtain a Juris Doctor from The Ohio State University Moritz College of Law. Bryan and his wife, DeAnne, have two children, Luke and Lucy. Bryan and his family enjoy the outdoors and are active in their local community and church.
Books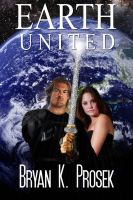 Earth United
by

Bryan K. Prosek
At the age of 12, Jake Saunders witnesses the death of his uncle at the hands of Romalor Leximer, the brutal leader of another planet in the Milky Way galaxy. Jake spends the next 8 years preparing to seek revenge against Romalor... and to bring to justice those on Earth responsible for his uncle's death.
Bryan K. Prosek's tag cloud