Bryce Bently-Tales
Biography
Bryce was raised by his mother and father in the countryside near Wichita, Kansas and learned to become an avid reader from his mother and maternal grandfather who carries the last name of Bentley. Stephen King novels still stack his two shelves in his old bedroom at home. After graduating from his high school with a class size of 69, he completed college where he had never came out gay, then took a winding journey over his entire 20s. This took him to Indiana, then to the San Francisco Bay Area where he still did not come out but obtained a master's degree. He traveled to Bangkok, Thailand during his late 20s to teach English for a year and he met his first boyfriend. Five years later, he completed his doctorate degree in psychology, which was inspired by a youth and young adulthood of feeling internally bewildered. Bryce started dabbling in writing in 2011 or in his mid-thirties. He self-published several works under his name over the last few years, but it was in 2016 he felt like he was finally getting the hang of this writing thing. The Werewolf on Lowre Few Lane is his first work under his pen name of Bryce Bentley-Tales. His next YA novel with a working title of Orion: The PreRobo Era Boy, is a work he is finishing up currently. Bryce currently lives in Dallas, Texas.
Books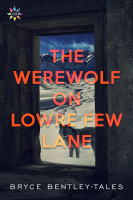 The Werewolf on Lowre Few Lane
by

Bryce Bently-Tales
Colton has a crush on foreign-exchange student, Dylan, who is visiting his aunt from America. But Dylan isn't your average American kid, and soon Colton and his friends are embroiled in more than urban legend and must find a way to save everything they know and love.
Bryce Bently-Tales' tag cloud