R. Brown
Biography
Blair is a native Bluenoser, born in Selma, Nova Scotia on May 24, 1936. He married his 'Valley Girl, Shyrlie Campbell in 1956 and is the impetus for Soulitude. They have three great children and wonderful, worldly grandchildren. Blair's teaching career began in Dartmouth but as so many Nova Scotians had done before, in 1958 he and Shyrlie went 'down the road' looking for better paying jobs, awakening the wanderlust in his soul - first to the Eastern Townships of Quebec, then on to Government sponsored postings in Lesotho, S. A., Tanzania, E. A. and Kingston, Jamaica, W. I.

Then came the time that most Maritimers experience - time to return to your roots. In 1975 a well-traveled family of five settled in the village of Barrington Passage on the south-west coast of Nova Scotia, the 'the lobster-landing capitol of Canada!'

Blair is retired and alone now, still living in the old family house that has served him and his family so well. He plays a little country music, writes a little bit, does some of his pyrography and . . . counts the days.
Books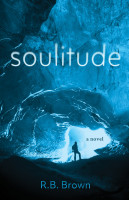 Soulitude
by

R. Brown
Having recently lost his wife and still grieving, Lucas McNab is introduced to the spirit world by a close friend, and it is through mediumship that he receives the startling truth that his wife is alive and well in the spirit world as a living soul. As a result of learning that a person's soul doesn't die nor is it destroyed, Lucas comes to an astonishing conclusion . . .
R. Brown's tag cloud