Betty Kelly Sargent
Biography
Betty Kelly Sargent is the founder of BookWorks, the Self-Publishers association, and the founder of The Educated Author, and writes a monthly column on self-publishing for Publishers Weekly. She has spent more than 30 years in the traditional publishing business, most recently as editor-in-chief of William Morrow, where at one point she had three books on the New York Times best-seller list at once. She has also been executive editor at HarperCollins, executive editor at Delacorte Press, Fiction and Books editor at Cosmopolitan magazine, and book reviewer for CNN. She is the author of seven traditionally published books and one self-published book. She moderates panels and workshops in New York City and Los Angeles and is passionate about helping indie authors learn to navigate the ever-changing landscape of self-publishing.
Where to find Betty Kelly Sargent online
Books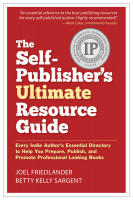 The Self-Publisher's Ultimate Resource Guide: Every Indie Author's Essential Directory—To Help You Prepare, Publish, and Promote Professional Looking Books
by

Joel Friedlander

&

Betty Kelly Sargent
(5.00 from 1 review)
Here, for the first time ever, dozens of leaders in the self-publishing industry--editors, designers, book shepherds, printers, teachers, publicists, marketers, subsidy publishers, workshop leaders, illustrators, reviewers--have come together to share their knowledge of the dynamic, ever-changing indie book publishing business.
Betty Kelly Sargent's tag cloud