Brian M. Slator
Biography
Brian M. Slator was born in Canada. The oldest of four, he broke a leg, had his tonsils surgically removed, and survived a bout of spinal meningitis, all before the age of five. He was raised in the Minneapolis area, educated in Catholic schools until the 8th grade, participated in track and field through high school, and was a hockey player until trying out for a high school play.

He hitch-hiked through Europe in 1970 and crossed North America on a motorcycle several times. He worked in restaurants and offices, on a farm, and for the railroad, until attending college at the University of Wisconsin, La Crosse, where he met his future wife. He has remained married to the same woman since 1984, and participated in the raising of three children while finishing graduate school and joining academia. He has owned the same motorcycle since 1973, which still starts on the first kick.
Books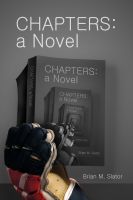 Chapters
by

Brian M. Slator
(5.00 from 1 review)
Chapters is set in the 1970s and follows this bunch of guys as America recovers from Viet Nam and celebrates its Bicentennial. When a naked man is slaughtered in their garage by a peevish survivalist everything takes a turn. Chapters is written in the manner of a metafiction. Like the gonzo journalism of those times, this is a gonzo fiction. It is also a ripping good yarn.
Brian M. Slator's tag cloud