Beth Tompson
Biography
Beth Tompson was born in Windsor, Ontario, Canada and obtained her Master of Library Science degree at Wayne State University in Detroit, Michigan after her children were grown. Prior to that she was an elementary and high school teacher, a nursing assistant, and an employment counselor. She even occasionally drove cab, was a store detective and sold Avon door-to-door! She recently retired as Library Director at a large library in suburban Detroit that required crossing the border into the U.S.A. five days a week for several years. Her experience there, as Music & Special Collections Librarian when she was first hired, will be sure to enhance future books in her Musical Mystery Tour series.
Books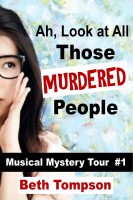 Ah, Look at All Those Murdered People: Musical Mystery Tour #1
by

Beth Tompson
Was the new Science Librarian Eleanoora Riggabee murdered because of her name? What were those things in the jars by the door? What were they for? Alexandra Landon and the Sampson Street Seniors find that the church where the weddings have been, Father MacKenny's writings and some darned socks lead to blackmail, poison and a desperate killer who definitely didn't at all belong.
Beth Tompson's tag cloud